2020 Neighbors Helping Neighbors Campaign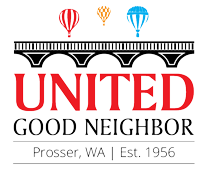 2020 has been quite the year. In years like these, it continues to be vital for neighbors to help neighbors. With your help, Prosser United Good Neighbors (UGN) has helped out community since 1956.
As Prosser UGN kicks off its 2020 campaign drive, many Prosser residents, businesses, and community organizations are struggling. If you or your loved ones have been negatively impacted, our thoughts are with you. Please consider whether a community organization that you are involved with is eligible to apply for a Prosser UGN grant this winter.
If you can contribute to Prosser UGN, your continued support is appreciated. Last year, your contributions helped 14 local groups, projects, and organizations, thereby bettering the health and human services and quality of life in the Prosser area. Some of the supported organizations include:
Heartlink Hospice and Palliatative Care – funded unpaid home-care expenses
Meals on Wheels – served meals to home-bound seniors
Prosser Thrive – educated families about the dangers of vaping and supported youth activities
Prosser Boys and Girls Club – supported child-care and youth activities
Prosser Music Boosters – purchased band uniform jackets
Prosser UGN wishes you well. If you are able, thank you for your continued support.  We have made it quite easy for you to submit a pledge online by clicking on our donate now button. 
Please do not hesitate to contact us if you would like additional information about Prosser UGN or if you have any questions.
Sincerely,
The Prosser UGN Board